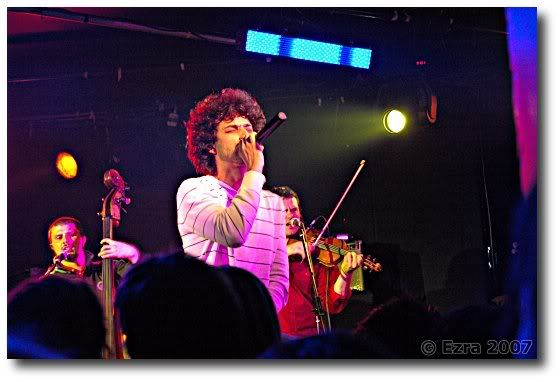 We're about to set it off live,
Sound and the vibe with the one true live,
Crush the system blow it out tonight,
Any city any venue any town ignite.

Acknowledge the ways the crowd makes sound,
Witness the craze as the crowd gets down,
Steps loud, beats come by the pound..
everybody inside, shut the door slams(?) down.



-true live, TV.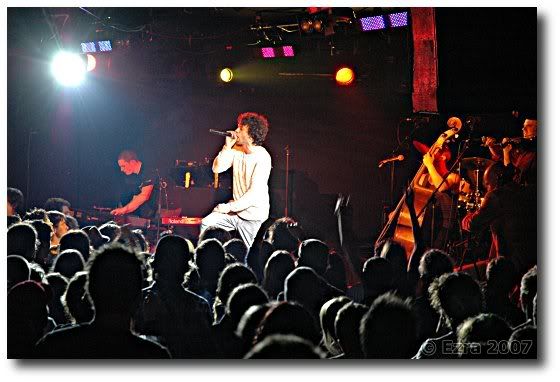 True Live is a jazz-hiphop fusion band comprising four really talented classically trained musicians led by the lead singer Ryan. One cello, one double-bass, one violin and a keyboard and percussion set are all the instruments they use (with the occasional acoustic guitar). It's quite different from typical hiphop with synthetic bass lines. Their songs felt hip-hop'ish yet very natural. This is not your typical underground band. They are handpicked graduates in Music and the performing arts and can play by feel very, very well. They were talented enough to do an impromptu song fitting in keywords from the audience at the end of the show. L33tness...

I happened to bump into Kezia and Maddie, two other first year med students that friday night. Kezia drove us to St Kilda where the gig was held. It cost AUD10 to enter the Prince of Wales that night but it was money well spent. We chilled with some of Kezia's friends by St Kilda after that. Literally...chilled. It was kinda chilly on the beach at 2am. Took a cab with Maddie back to Swanston street to catch the night rider bus back to campus. Had McDonalds at 3am(!) before the bus came. Swanston street was alive at 3am. Surprisingly, there were lots of people on the street. Not dangerous shady characters - normal people.